Pues finalmente,y tras dos meses,me animo a escribir que tal me fue en la Tea Party de Angelic Prretty en París!

Finally,2 months later,I'll write about Angelic Pretty's Tea Party at Paris!

Cuando nos despertamos esa mañana,Faith (
faith_winters)y yo ignorábamos por completo que fuésemos a asistir a ella.Si no llega a ser gracias a Choco(
princessofdolls) y Candy (
candy_cabaret) las cuales convencieron a Dominique,el dueño de Bollywood y la tienda de Angelic Pretty en París,de que nos dejara pasar.Aquel hombre resultó ser un auténtico amor y acabamos dentro!

When Faith (
faith_winters) and I woke up that morning,we didn't think we could go to the Tea Party at all,because we didn't have any invitation. Thanks to Choco(
princessofdolls) and Candy (
candy_cabaret) who talked to Dominique,Boddywood's owner.He was and incredible nice guy and let us in!


Fue en el barrio de Montmartre,en un local con unas vistas fabulosas hacia el Sacre Coeur.Estaba decorado al detalle y la comida eran todo dulces deliciosos y bebidas riquísimas. Al rato de estar allí,llegaron Maki y Asuka,preciosas! Hicieron de camareras durante toda la velada,sirviéndonos a todas y retirándonos los restos. Hubieron concursos de toda clase,tanto prendas y accesorios de la marca como una ilustración exclusiva de Maki! Resumiendo,fue una experiencia inolvidable,y agradezco haberla podido vivir junto a amigas paisanas!

The place chosen for the Tea Party was in Montmartre,in a place with a great view to Sacre Coeur.It was perfectly decored and food was delicious! Yummy cupcakes,sweet drinks and candies! Few minutes later,Maki and Asuka arrived,they are so cute! Also,they raffled some Angelic Pretty items and a Maki's exclusive illustration.It was a great experience,and I'm so happy that I could went with spanish friends!

Pics!!



Fotos mías/Pics I took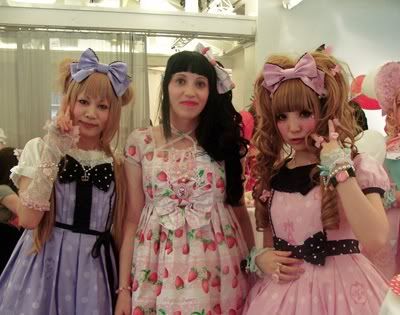 Me with Maki and Asuka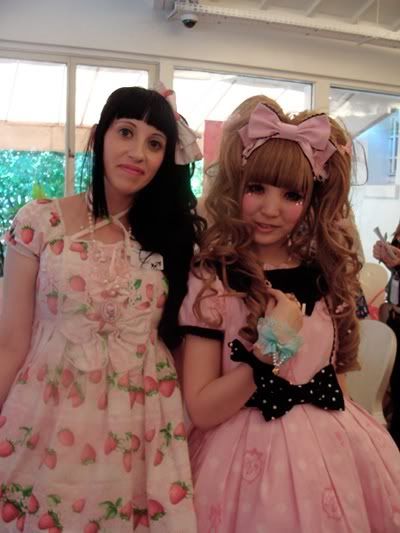 Maki and I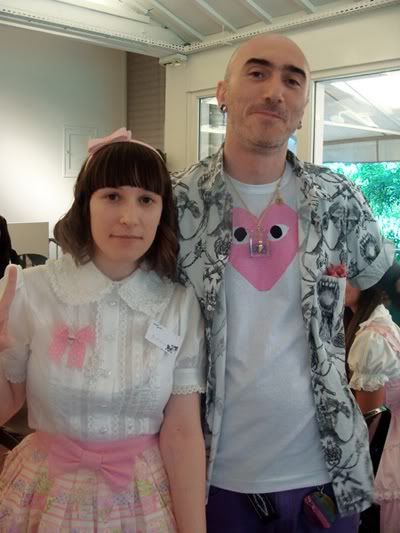 Faith (She looks so cute!) and Dominique,the only guy that can be manly wearing Tarina Tarantino jewely.




Me with Angelic Pretty's owner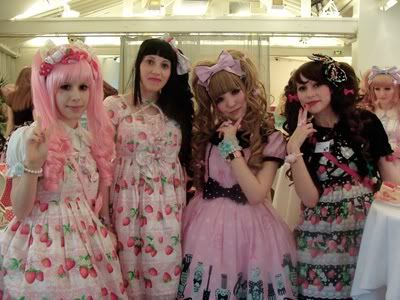 Choco,me,Maki and Candy.All girls look so gorgeous.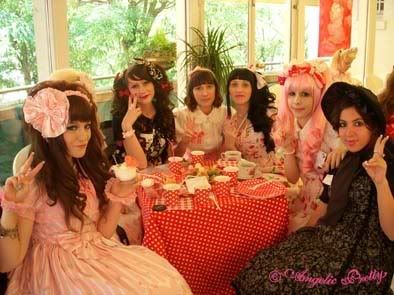 I took that one from the Maki and Asuka's blog!

Fotos del blog de Angelic Pretty París/Pics from Angelic Pretty Paris's blog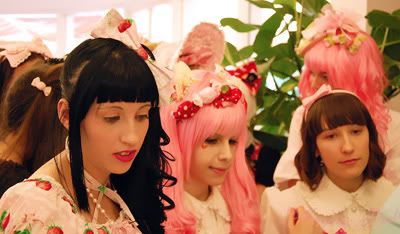 Me looking retarded,Choco and Faith waiting for our turn for ice cream!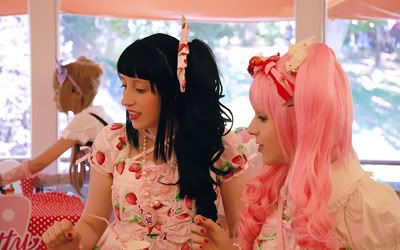 Choco and I,and Asuka cleaning!





Cositas que compré en Angelic Pretty! Puños de Milky Planet,Hairties rosas y rojas y una pulsera de plástico con purpurina en forma de lazo.También sobres y cartas de Jewellery Jelly,pegatinas y postales que me regalaron.

Stuff I bought at Angelic Pretty store! Milky Planet wristcuffs,PinkxRed hairties and a glittery bow plastic bracelet.Also,I get a cute Jewellery Jelly stationery set,stickers and postcards.